Epson SureColor P7570 SE Printer
EPSCP7570SE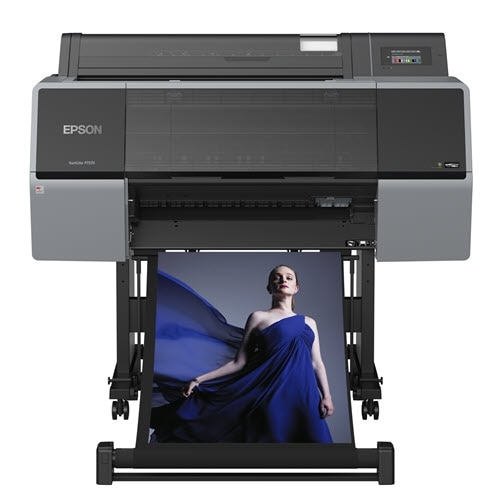 Epson SureColor P7570 Standard Edition 24 Inch Printer with UltraChrome® Pro12 Ink
Epson SureColor P7570 Standard Edition 24 Inch Printer with UltraChrome® Pro12 Ink
An industry-leading, advanced wide format printer is designed to provide superior results for proofing, photography, fine art, and graphic design printing projects. Epson SureColor P7570 SE has advanced media handling options for creatives that print plain papers, photographic materials, poster boards, and fine art. Enjoy unmatched image quality, brilliant colors, and accurate reproduction at faster speeds.

EPSON ULTRACHROME PRINTER FEATURES
PrecisionCore Powered, featuring a new 2.6" printhead that performs up to 2.4 times faster than any of earlier Epson printers.
Run the color gamut and create striking colors with the all-new UltraChrome PRO12 Ink with Violet. Enjoy up to 99% coverage of the PANTONE® FORMULA GUIDE solid-coated standard for results that are both breathtaking and striking.
Realtime Photo and Matte Black ink switching means photographers and other creatives enjoy nozzles dedicated to either black ink type.
Industry-leading print permanence means your prints will last a long time (like all print results should). Prints with color can last up to 200 years while black and white prints can last double that time.
This P7570 Printer design features a customizable touchscreen for a personal user experience with an easy to operate 4.3" color touchscreen.
Smaller, redesigned printer design features an industrial-level, long-lasting print engine along with a convenient interior LED light for more efficient operation and results.
Black tone reproduction capabilities are sharper than ever with Black Enhance Overcoat. Improved Dmax means a wider contrast ratio and greater clarity, and glossy paper even produces high-level sharpness.
You can choose the optional Epson SpectroProofer® to automate color calibration and proof verification tasks. Ideal for necessary proofing applications in conjunction with optional third-party RIP and workflow software.
Workflow integration is a breeze thanks to installation compatibility with almost every third-party RIP workflow software system.
Includes Epson $250 Instant rebate through 12/31/2023