Color InSight
Color InSight is a suite of tools for working with color. At it's core is a full featured color asset management (CAM) database that supports the communication, storage, organization and conversation of color throughout an organization and between applications. From creating color palettes for design and CAD applications, to maintaining supplier color libraries, Color InSight improves your existing applications color management capabilities and supports more efficient and accurate workflows.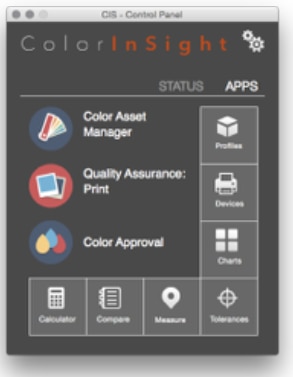 Color Asset Management
Color InSight organizes your color library in a way that makes working with color accessible to all members of an organization. The color asset manger allows multiple users to search, sort, organize, import and export colors quickly and easily. The intuitive interface makes navigating libraries and collections of color simple while still supporting all the functionality needed by the color office for quality assurance and sample evaluation.
Color InSight Asset Management Features :
Find the closest match to a sample in an existing library.
Sort colors by hue, chroma, lightness.
Add meta data to colors and search for saved attributes.
Share seasonal collections of colors through the web interface.
Import colors from QTX, CXF, or CGATS file formats
Export palettes directly into Adobe applications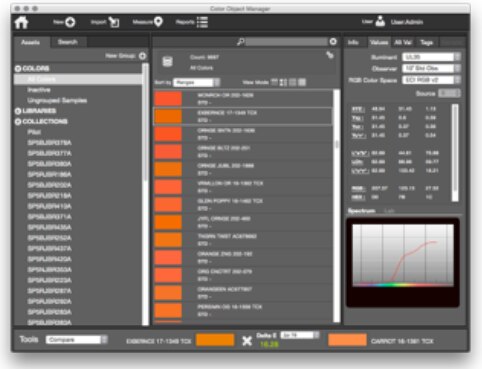 Color Workflow Enhancements
The "CCore V2" color engine enables highly accurate color conversions and print reproduction. The Color InSight Optimizer module supports automated color matching of printed colors to standards in the color library. This process allows entire libraries of colors to be quickly matched using a spectrophotometers to obtain matches of < 1Δe.
These are just some the benefits provided by the optimization module:
Identifies and flags out of gamut colors
Matches colors under any defined illuminate and observer combination
Work with printer or RIP and supports several models of spectrophotometers
Allows visual override of color matches
Quick, repeatable & objective results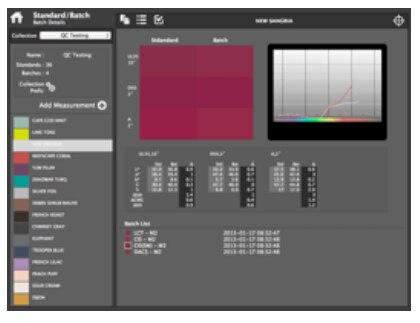 Quality Assurance
The CIS software ships with a full featured print Q.C. systems that can record and evaluate the performance of printers over time. This trending information can be used to identify shifts in color, paper lot variations and printer drift. Customized tolerance conditions can also be attached to a given workflow to provide quick pass/ fail evaluations of a print or proof. Color InSight also provides tools for evaluation the match between Color Standards and Samples. !
Tools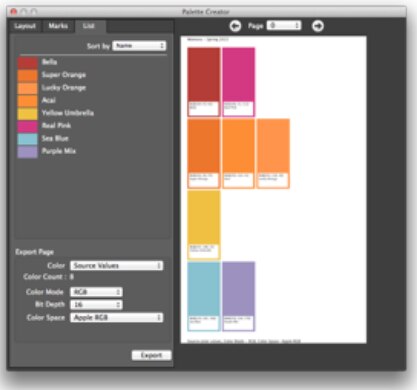 Color InSight ships with a number of tools that support a variety of different color workflows.
Manage and track printer, displays and measurement devices. See printer errors, supply levels, calibration status and associated profiles.
Create color palettes from images, measured colors, or color values. Automatically replace close matches with existing library colors.
Quickly generate customized palette chips in different sizes or shapes and with customized metadata tags.
Run reports on color use, achievability etc.
Export color information to Excel, plain text or QTX, CXF or supported RIP Spot Color Tables.
Save colors directly into the Color InSight Database using handheld spectrophotometers such as the X-Rite Ci6X, i1 Pro2, and Data Color Check II.
Convert color values between color spaces,profiles or between different illuminates.
View ICC profiles in 2D and 3D space. Plot sample points over profile views.
Compare, average and edit measurement data sets.
For more information about ColorInSight please visit our resource page Color-Insight-Resource-Page.